Post by Kyoki on May 11, 2017 18:20:15 GMT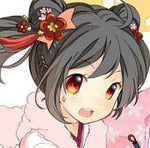 Right now I'm trying to catch up to One Piece. The arc that I'm watching right now is so long so it may be awhile before I'm there. I'm also watching Gunslinger Girl. I noticed it a few years ago and it sounded interesting but just never actually got around to checking it out until now. Lol!
Kyoki
Oh what arc are you on in One Piece? I stopped watching as well but one day I think I want to catch up. Tell me how Gunslinger Girl is! I thought it looked interesting also XD
I'm in the Dressrosa arc right now. It's pretty interesting, but some of the fights are taking so long. And they keep showing scenes that they don't really need to, like towns people running around scared for like five minutes. I've had to skip ahead some of these scenes since it was just getting so boring.
It was actually a lot better than what I thought it would be. I wish they would make more since I think the manga went on past what they showed in the anime. I was so wrapped on in this anime that the episodes went by so fast. One episode I was watching and then all of a sudden it was over. I thought only five minutes had gone by, but twenty had. Lol!